Weather Shield Mount
Weather Shield Mount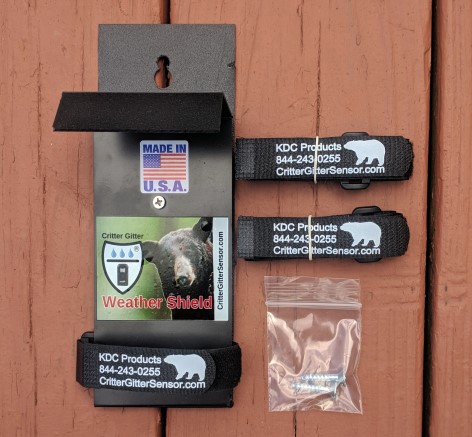 The Weather Shield® is made of long-lasting weather resistant ABS plastic. It makes mounting the Original Critter Gitter easy and stable. The Critter Gitter is attached on the small screw but also has a hook and loop strap to additionally secure it to the mount.
The mount has screw markers slotted on the side to make positioning the mounting screws really easy. Once the mounting screws are in place, just hang the mount on them.
If there is no readily available place for the mounting screws, two additional hook and loop straps have been provided to aid in the mounting if appropriate. Also, the mount has a space between the top and bottom of the mount expressly for stable use of hook and loop straps.
Note: The "roof" above the Critter Gitter is not there to protect from rain, but rather hot summer sun at a high angle which can "blind" the Critter Gitter.