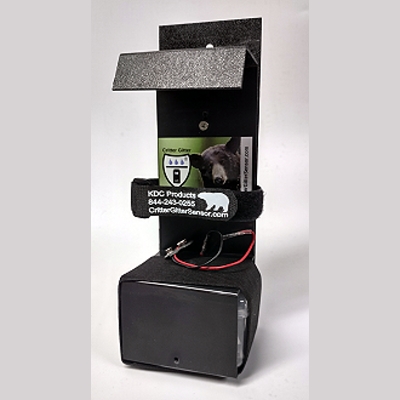 Note: The supplied battery with a Critter Gitter normally lasts up to a year depending on how many times it is triggered. This mount provides power for unusually long periods of limited access to the location. Such as a mountain cabin that is used only in the summer and needs protection for long winters.
The American Made Weathershield® Extended Battery Life Mount for the Amtek Critter Gitter®

The Weathershield® solves the Critter Gitter shortcoming of it being difficult to mount and more difficult to mount securely for extreme weather environment deployments. And, allows for one to three 9 volt batteries for extended duration deployments.
The Weathershield® Extended Battery Mount is versatile in that it can stand alone or be mounted to a flat surface using the mounting holes in the back. There are mounting hole markers on the side for accurately marking where to put the stainless steel screws provided.
The Weathershield® also has hook and loop straps provided for mounting to a post or pole.
Durable ABS plastic (almost no sun deterioration)
Hook and loop (Velcro) straps for pole or post mounting
Mounting hole placement guides are marked on an edge
Can stand alone without mounting
Easily opened battery compartment for easy access to change one or more batteries.
Batteries are housed in the compartment instead of the Critter Gitter.
The durable Weatherproof Critter Gitter has 100% sensitivity and range. The external device jack and the switch are covered. Its seam has been covered with a Silicone band. The LED's have been sealed with silicone. The band does not need to be removed for either switch access or to change a battery.
As with most "improvements" there is a downside: The switch is covered by the Silicone Band and its location is not evident. If a person doesn't know where the switch is, it is likely it cannot be located to change the volume or to switch it on or off.