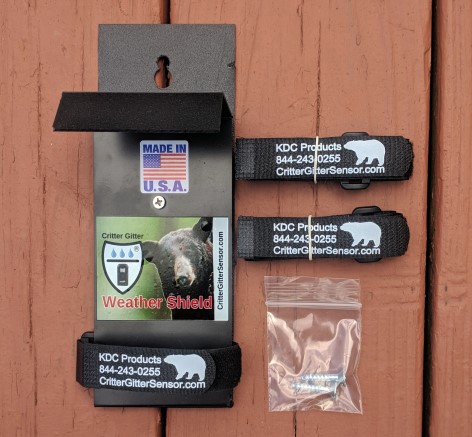 The American Made Weathershield® for the Amtek Critter Gitter®

The Weathershield® solves the Critter Gitter shortcoming of it being difficult to mount and more difficult to mount securely for extreme weather environment deployments.
The Weathershield® is versatile in that it can be mounted to a flat surface using the mounting holes in the back. There are mounting hole markers on the side for accurately marking where to put the stainless steel screws provided.
The Weathershield® also has hook and loop straps provided for mounting to a post or pole.
Durable ABS plastic (almost no sun deterioration)
Hook and loop (Velcro) straps for pole or post mounting
Mounting hole placement guides are marked on an edge
Sun Hood to prevent sensor "Sun Blindness" from overhead sun
Hook and loop strap for easy access to the Critter Gitter to change a battery