Delivery Information
We use the US Postal service for shipping to both our domestic and International customers. Occasionally, we use United Postal Service (UPS).
We ship to both physical locations and Post Office boxes.
We accept cards and bank transfers for payment.
Large orders usually require special manufacturing orders from the factory and can take an additional 2-3 weeks for manufacturing.
International shipments are subject to Customs issues that cause delivery delays and require intervention on the receiving end to clear customs for delivery.
Most domestic shipments arrive in 3 to 7 days depending on the shipping service selected.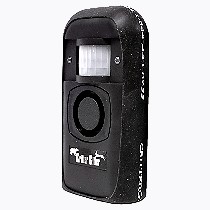 Weatherproof Critter Gitter Version 2 plus mounting extras
(Suggested Retail: $174.95)
Sale Price $99.95

9 volt battery included.
Hook and Loop Strap included.

Wt. 5.4oz.

In Stock

Read More