Our Privacy Policy
Your information is never provided to anyone outside of our company except by court mandate. We notify you of an order by email and may send periodic notifications of new products, or new technical developments related to product(s) you have purchased.
Your information is never sold or given away.
Your information is stored on our secure servers that are as secure as anyone's servers can be. If one of our servers were to be compromised (as many servers have), we would notify you immediately and never try to hide that event.
Your payment information is never stored longer than necessary to complete your transaction. That is why you need to re-enter it on every order.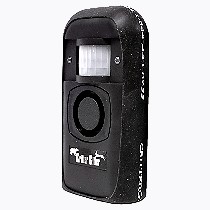 Weatherproof Critter Gitter Version 2 plus mounting extras
(Suggested Retail: $174.95)
Sale Price $99.95

9 volt battery included.
Hook and Loop Strap included.

Wt. 5.4oz.

In Stock

Read More